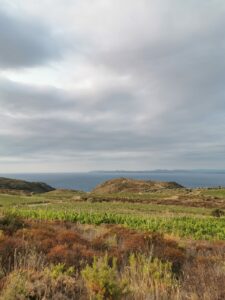 In the middle of the harvest we observe the vineyards. They have come this far, with all their might, in spite of the drought, in spite of the wind, in spite of the risk of fire this summer. We are very grateful to be able to work and harvest their fruits. We thanks nature to be able to take care of them.
The vegetable covers are yellow, the color of the straw dominates, if it were not the leaves and underneath, the grapes that we now harvest, we would say that the earth cannot bear fruit like this. Plants teach us slow adaptation to changing climatic conditions, resilience is their most authentic way of life. Our obsession is to make their future easy, creating spaces so that the water does not carry away the soils, redoing the dry stone walls, using drip irrigation very occasionally.
We keep on going on harvest ????