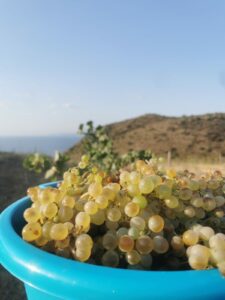 Why we make the yeast of a new wine?
We started a yeast in the vineyard by the sea, in Mas Marés. This fermented juice is what we will put in the vat where the grapes from this vineyard will go. The idea is to reproduce the yeasts already present in the skin of the grapes so that it is the main one in the wine.
If we want to make a wine in which both the grapes and the yeast are only from a certain vineyard, the only way is to cultivate them in the vineyard. If we do not do so, it is possible that the yeasts that appear are not only those of the grapes, but also those present in the cellar. It's kind of like a primary yeast for bread but of and for wine. This yeast will help to ensure that there is already an active yeast population that is imposed during fermentation. Growing this crop makes it easier for the fermentation to go well. This is a very effective technique in small volumes of wine which we have already applied on other occasions.
We peel the grapes. We choose the ones that are whole and beautiful and have no cracks or are becoming raisins. We crush them until no spheres are left and all the juice comes out. We put them with all the juice they have taken out in a jar that we leave badly closed. That's the way to let come out the carbonic when the fermentation begins.
We would like to be able to do it in Pardells, in Rabós, too;) We will tell you.