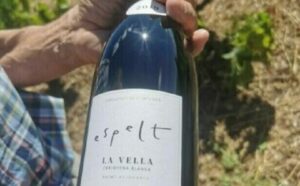 La Vella: white Carignan from the Empordà
La Vella is our white Carignan of old vineyards, planted in 1919. This wine is the culmination of a process of observation, research and study on the local varieties of the Empordà.
Some time ago, with Dylan Grigg we were sorting out all the vineyards we had, analyzing them, rediscovering forgotten varieties and deciding that we could never leave them nameless again. From this exhaustive study came the library of varieties, and hence our idea of making wines that would recover them, like this white Carignan.
La Vella is a tribute to the winegrowers who have worked hard to preserve these vines for a long time, despite the low yield, although the trend for many years was to uproot and put varieties that gave more grapes. Winegrowers such as Àngel Poch, who with perseverance and love for the land have made it possible for La Vella to become a reality today.
Thank you all for working the land with love for so many years!
You can now order La Vella in our shop online.