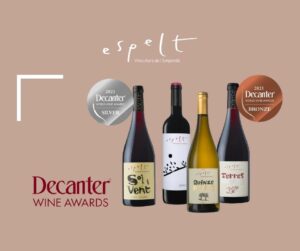 Sauló, Gold Vinari Young Red Wines, and more magnificent scores
This summer we have collected a good sample of awards and recognitions that help us continue the learning path we started more than twenty years ago. Sauló Gold Vinari for Young Wines and magnificent scores in the Peñín and Decanter WWA indicate us the path.
We are very happy with the Golden Vinari Wine Award for Young Wines for Sauló that we obtained in the contest of July. A prize for a wild wine, which takes us to the undergrowth of the garriga, our terraprim. Aromatic herbs, subtlety and silkiness, for a young man who seems wiser than he appears. With this blend of red Grenache and Carignan we find memories of poorly domesticated Empordà mountains (flowers, violets and rosemary), with tastes that persist after first taste. This award is for us the recognition of a young wine that we love very much, because it is part of our soul. Our Lledoner Rosat has also received the Silver Vinari in Young Rosé Wine, another recognition for an insultingly young wine, very versatile, with an attractive red and spicy taste. The scores of the usual summer guides have not left us indifferent either. Of the Empordà Tasting of the Peñín Guide, the 94 points of Les Elies stand out, which places it in the great of the excellent wines according to this guide. Our homage to the red Grenache is a wine full of hidden corners, like the grapes we choose to make every year: the best of the harvest. Also noteworthy are ComaBruna with 93 points, Terres Negres with 92 points, and Quinze Roures and Sol i Vent with 90 points. A total of five wines above 90 points.
On the other hand, Decanter has also published its Decanter World Wine Awards scores: Silver Medal for Sol i Vent (90 points); and Bronze Medal for the Quinze Roures (88 points), Terres Negres (86 points) and Sauló (87 points).