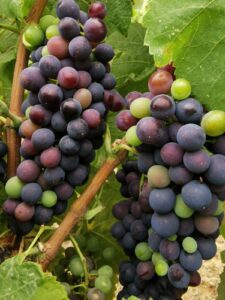 Verol  is when the grape begins to take on the color it has when it is ripe. It is one of the most beautiful changes of the vine. It should be fast and uniform. Moving from the color with which all the berries are born, green, to all the shades of the grape we know. It is a key ripening process for the grapes. In our vineyards we often see the logical evolution considering altitude and latitude, they are a few meters apart. The variations are subtle, but we find them there and they surprise us every year.
Thus, we have make an effort to deeply observe in order to describe you all the variety between terroirs in this post. The first to verol are those of the plain, black and white grenache, macabeos and other grapes that we use for younger wines. They are the origin of the winery, where we started and from where we have been learning what we know.
Then we have the mountain vineyards of Vilajuïga, granite enclave, rugged terraprim full of aromatic plants. They were planted between 1998 and 2002, and much of it was Anna's final master's project. We started to climb the mountain again to rediscover the authentic Empordà terroirs. They are 25 hectares completely ecological, of black varieties, where the Mediterranean ones predominate. It was also our first experience when rebuilding terraces, so important to prevent erosion in our climate of heavy rains.
Later, it is the turn of Rabós, very old vineyards, between 30 and more than a hundred years old, with varieties such as carinyenes, black, white and red Grenache. Old and wise vineyards, always planted on slates. These are very low yields, which give complexity and power. We looked for vineyards that taught us who we are, who we were, and we found these gems.
The last estate is Mas Marés, vineyards by the sea, in Cap de Creus. They are ecological grenache, picapoll and monestrell in an agroforestry project that aims to recover the Mediterranean mosaic by combining vineyards with cork oaks, pastures and steppes. Here we find granites, north wind and sea wind, the ideal sum to make very Mediterranean wines: complex, intense and delicate.
It is said that in variety there is wealth and we add that also a path for learning!