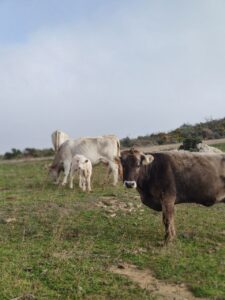 The cows return to Cap de Creus
Since we can remember, we have seen cows in Albera and Cap de Creus. Changes in the contemporary world have made transhumance more complicated. The beasts, however, still need to change their minds when winter comes.
For years, we have had an agreement for these cows from Ripollès to graze in our vineyards in Cap de Creus. They win with good pastures: Xavi, the shepherd, tells us that if it rains there will be good grass (hopefully it will be so and it will rain soon!).
The whole area around Mas Marés also benefits with an enriched ecosystem. Thanks to their presence, we help the mosaic, this Mediterranean landscape that is a reflection of the variety of ecosystems and biodiversity. With the cows, one more element is added so that the different ecosystems that live together in this space create synergies between them. Cows are important because they create more open spaces, which is great for bringing in other animals like the little kestrel, which already we told you . They also reduce flammable biomass and, therefore, lower the risk of fire, and contribute more organic matter to the soil, thus closing a virtuous circle.

If you go up to the Pic de l'Àliga or the Pla de Gates you can now find the cows grazing peacefully again and enjoying the sun and wind, and hopefully some rain soon. Tell us if you were able to greet them, have you seen them?