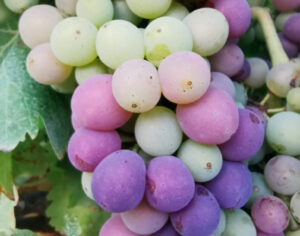 If there's one thing we learn from listening to and observing the earth, it's that everything changes and nothing stays the same. Time changes everything and transforms us as well. Being tied to the cycles of nature is one of the most valuable learnings that viticulture has given us.
These days the grape has begun to turn brown. Verolar is when the grape begins to take on the color it has when it is ripe. It is one of the most beautiful changes of the vine. The word verolar in Catalan is in itself also an example of the change inherent in everything around us, it comes from ver a variant (precisely) in old popular Catalan of the adjective vari/vària. Ver soon disappeared from the current language to be confused with ver with the meaning of 'truth', but it remained in this word: verolar.
The change in color actually occurs throughout the landscape that now turns brown because the water stress we have in the Mediterranean is becoming apparent, despite being a very green year. We have already removed the vegetation cover in most places so that there is no competition and this water stress is fair. Now is the time to realize that all the efforts, fears and dreams of winter are beginning to take shape and color. The real harvest is approaching. The tips of the thoriums have stopped growing, the plant ceases to be expansive to concentrate on itself and give the best possible grape. The grape changes color, yes, but inside the plant there is a total change in its operation: it begins to accumulate sugars, aromas, colors, tannins. The berries begin to soften, go from hardness to texture change and become more fleshy.
This is the end of July, there is nothing left to do, it's just time to wait. Let the summer pass, be patient and watch the blackberries ripen near the vineyards, smell the crickets, the summer insects and the smells that have completely changed their aroma compared to those in the spring. Nothing more, just the sweet wait for the vintage.