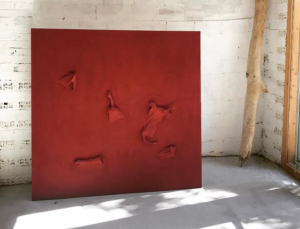 Andere Monjo presents The Wine Colors
We open the doors of the winery again for local artists who want to show their work. This Saturday we inaugurate the exhibition The Colors of Wine by Andere Monjo.
The exhibition that will accompany us in the coming weeks is a creation made from the colors of wine in connection with the artist's intimacy. With remnants of vines, roots and thoriums collected at different times, Monjo explores textures and colors in a unique way that connects her to the earth. A work that expresses itself over time and uses these natural elements to welcome, embrace and feel it. Come and discover this initiatory adventure that begins on earth and ends in a sensory expression, as does wine.
The inauguration will be on May 15th at 12 noon in the Espelt winery and you can see the exhibition for the next two months. Admission is free.
We are very excited to reopen this space accompanied by the expertise of Rafael Camps, visual artist responsible for the cultural program of the winery. Long live to culture and its creators!