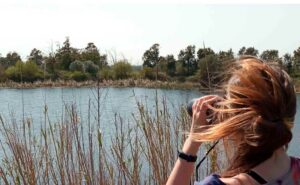 Vivid: Nature in the Espelt vineyards
Vivid is here with two activities: Nature in the Espelt vineyards and Wines and Landscapes in Cap de Creus. These are the activities we have prepared for the wine tourism festival in the Empordà during the month of April. Wine is made on land. Come and taste Espelt wines while discovering the nature around us.
Espelt Viticultors presents two activities at the Vívid, the wine tourism festival in the Empordà that takes place during the month of April.
The first activity is a walk through the vineyards of Mas Marés to learn about the management of the territory through agricultural systems of high natural value, a mosaic that protects and ensures the biodiversity of the area. We will get to know the area of Mas Marés and Pla de Gates, recently affected by a forest fire that was stopped thanks to the integrated management we do of these lands. We will also discover the fauna and flora that coexist harmoniously and that make us aware of the need to take care of the territory, the most precious legacy we have.
The second activity is with the collaboration of the IAEDEN (Alt-Empordà Institution for the Defense and Study of Nature). We invite you to make an itinerary on foot through the vineyards of Vilajuïga to discover all the natural treasures which are hidden in the framework of the Vivid Festival. With the ornithologist David Ibáñez, and in the midst of the bird migration season, we will have the opportunity to observe birds returning from the warm lands after winter. We will also identify aromatic plants that coexist among the strains, and if we are lucky otters!
During the two walks with Anna Espelt, director of Espelt Viticultors, we will taste wines that come from the vineyards that we will be visiting, and that Anna and her team work so hard to have all this natural richness. At the end of Natura's itinerary in the vineyards, we can also pair them with a table of local cheeses from the Abricoc store.
Practical information activities:
Wines and landscapes of Cap de Creus
Nature walk and tasting
Saturday, April 9th
10 h
Mas Marés
15 €
Nature in the Espelt vineyards
Nature walk, cheese tasting and tasting
Saturday, April 30th
18 h
Vilajuïga
32 €