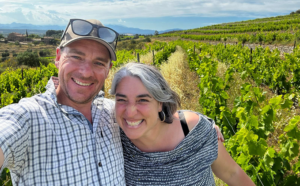 The end of the vineyard cycle is near. We already have well-populated berries and we are waiting for not last minute surprises. We have a look back on this intense year's harvest.
We are facing this harvest with a desire to review the last few months. We worked hard and received the support of such spectacular visits as Jancis Robinson in September. There are eight generations of winemakers who endorse us, but there is always time for innovation. We now feel that we are facing a stage of maturity and consolidation. Our project based on respect for the land and the sustainable management of resources is more than twenty years old and that's quite impressive even for us.
Our comprehensive management of the vineyards tries to take care of the biodiversity of the area. Encouraging the preservation and improvement of biodiversity is right now the cornerstone of our project. After the fire in Mas Marès, in February, we had a test (which we had never wanted) of the good work done in Cap de Creus. This Mediterranean mosaic project, an agricultural management system that combines different types of agricultural areas (pastures, vineyards and high protection areas) has been shown to be the best fire prevention.
Awards and pending work
After all, we try to make our wines as an expression of small pieces of Empordà landscape. This is the territory we consciously care for. We couldn't do it any other way. The reward for this work over the years has been recognized recently by the awards received. In first place, Pla de Tudela – Anna Espelt (Best Picapoll Blanc segons La Guia de Vins de Catalunya 2022). Then it was the turn of Les Elies (Gold Medal Grenaches du Monde 2022). Finally, the silver medals of the WWA Decanter 2022 for Coma Bruna (100% Carignan) and Lledoner Roig (100% Grey Grenache).
Finally, the visit this spring of Dylan Grigg, an expert in viticulture, has helped us to make a panoramic reflection of everything we have advanced. We have done a lot of work on local varieties, on resilience, on bearded vines, on potted vines. It has also helped us to make a stop and see everything we have left to do. Little by little we are making our way!